Klubovna Zbraslav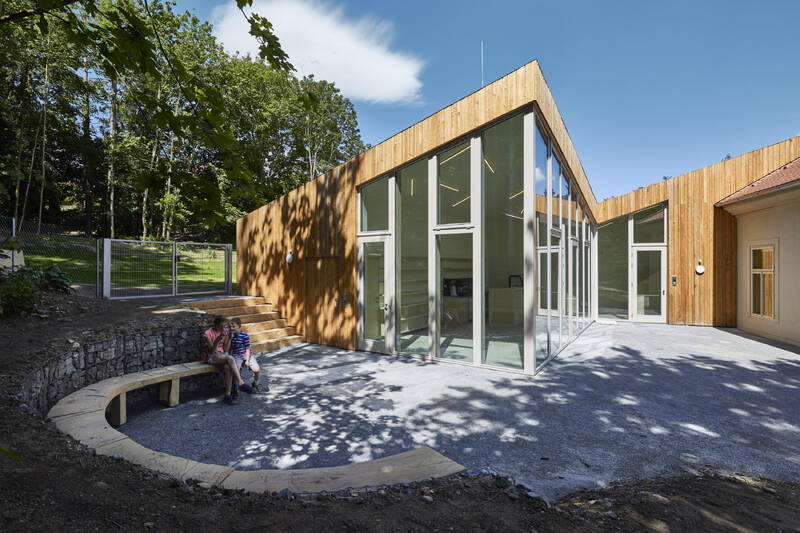 Reconstruction of the former public laundry house
Location: U Prádelny 668, Praha - Zbraslav, Česká republika
Client: Prague - Zbraslav Municipal Městská část Praha Zbraslav, zastoupená starostkou Zuzanou Vejvodovou
Architect: PROJEKTIL ARCHITEKTI s.r.o.
Authors:  Roman Brychta, Adam Halíř, Ondřej Hofmeister, Petr Lešek
In cooperation with: Maria Javorová, Zuzana Retterová, Rudolf Süsser
In an overgrown garden on the edge of the forest park in Zbraslav there has long been a house. It was a municipal poorhouse, then a public laundry, which ultimately dilapidated and has been abandoned for years since. It is surrounded by houses and villas with well-tended gardens. The city was faced with a difficult question. What to do with it? Wisely, the city council decided not to demolish the house, but to repair and reuse it since they appreciated its unique charm. Thanks to this decision, the local scouts now have a new clubhouse. What is more, the visitors of the adjacent, revitalized forest park may get a coffee in a small café there or use the sanitary facilities in the building. All under one roof, arranged in such a way that the spaces are interconnected and at the same time separable if necessary.
The existing house has only one floor, a front garden, and an entrance staircase. It has a tiled roof, a classical stucco façade and wooden mullioned windows. Inside, there are four simple, vaulted rooms with views in all directions interconnected by an entrance hall. The attic under the hip roof may also serve as a part of the clubhouse or a workshop. Everything was cleared of old deposits and complemented by a wooden outbuilding set in the garden behind the house. The lightweight structure with a glass wall opening onto the woodland houses a small café and sanitary facilities for the clubhouse. The courtyard in front of the café flows freely onto a plaza with a fountain and seating under a linden tree. The other yard behind the wooden extension and the garden surrounding the houses in the back represent a space exclusive for the Scouts. We aimed to dust off the old house to reveal its beauty and to breathe new life into another neglected part of Zbraslav. Together with the recently revitalized forest park, the clubhouse is once again becoming a vibrant part of the town.
Original state and drawings
Artist (benches, playground elements): Miloslav Fekar
Landscape architect: Steiner a Malíková zahradní architekti (Aleš Steiner, Pavlína Malíková)
Graphic design: Kultivar (Zuzana Horecká-Brychtová, Jana Delafontaine)
Contractor: Roddom s.r.o. (Jan Břížďala)
Built-up area: 325 m2
Usable floor area: 340 m2
Volume: 1 685 m3
Project: 06/2016 - 02/2019
Construction: 05/2019 - 05/2020
Opened: 06/2020